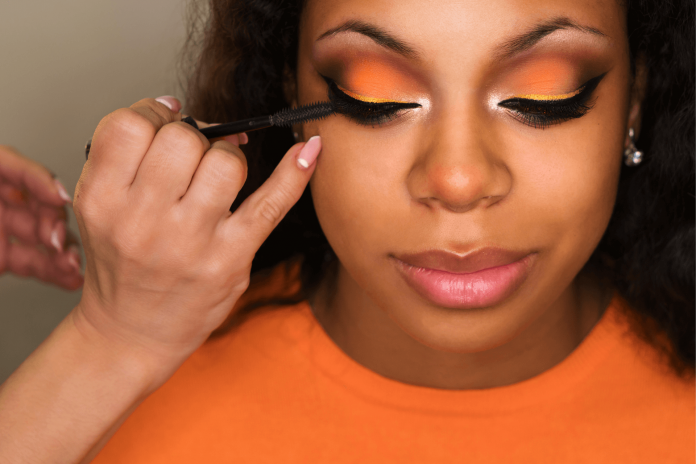 For our self-recognition, our face is undoubtedly the most important part of our body. And makeup helps in enhancing our outer appearance. We women love to use makeup products on our faces. Women appear more feminine when they use makeup. Not only makeup makes us beautiful but also it gives us more confidence.
But makeup is not always meant for parties or functions. You might need to use makeup in your everyday life just to look a little bit better. And for that purpose, you can go for simple makeup looks. 
If you look through on the internet, you will find lots of information about different makeup looks. As a woman, I also get confused about which one makeup look will suit me. But here I bring you some of the simplest makeup looks you can try out in everyday life.
Simple Makeup Looks Step By Step.
Here, I will basically guide you step by step with 3 different makeup looks. 
Step-1.

Natural look:
This makeup look is a natural, easy look and it is not too hectic. 
So, I will start with brows. With the use of a brow pencil, try to fill up your brows. Do not use dark shade; try to use a lighter shade for your eyebrows.
After filling your brows with a pencil, take a mascara brush and blend it up. Now take a brown shade eye shadow and apply it to your eyelids with the help of an eye shadow brush. Use the lighter shade of brown underneath your eyes. Lighter shades really open up your eyes. 
Contour your jawline and nose with a darker shade of concealer. Blend it with the help of a beauty blender. Use bronzer on your cheeks and on your forehead. Now take an eyeliner, draw a thin line very near your lash line. Slightly apply it on the inside.
Extend your eyes by swatc hingeyeliner; it helps your eyes to look bigger and more beautiful. Don't put a lot in the bottom cause you have to keep it natural. Now it is time to draw your lips. Use 2x darker shade than your lipstick shade. Now take lipstick and apply it to your lips carefully.



Step-2.

Every day make up look
It is really very easy, and it requires no foundation. 
Let us start this look by applying eye patches because many of us may have dark circles under your eyes. Take them after 15 minutes.
So now, the next step is applying CC serum; it helps your skin to look like glass and shining too. Take a little bit of it and pat it on your skin with your hand. If your skin has redness, then you must use a color corrector. And blend it with the help of your hand. 
Use the eye shadow that matches the outfit you are wearing. Cause I always prefer this. Start with applying lighter eye shadow; apply it on your eyelids. And now, take the darker shade and apply it at the end of your eyelid using a small eye shadow brush. 
Also, put a little amount on under your eyes. Apply light shimmery eye shadow on your inner corners. Now use concealer under your eyes and on your nose. And blend it with the help of a concealer brush. Now you can contour your face using bronzer. Apply it on your cheekbones; it may give you a little bit tan. Use a golden shade of highlighter on your cheekbones and in the middle of your nose. 
Now take blush and apply it to your cheeks with a blush brush. Using eye gel gives your eyebrows shape and extends your brows with the eyebrow pencil. To extend your lashes, you have to apply mascara. Now take a natural nude lipstick and apply it to your lips.
step-3.

Go-to makeup look
I am keeping this look little local beach. 
If you have dry skin, then you have to use a sculpting and hydrating Foundation. Use the Foundation like concealer because this is a natural look, and you don't want to look too chalky. Foundations are super smooth and creamy, so you would definitely like it. 
Now draw your eyebrows with the eyebrow pencil. Then it is time to use eye shadow. Take a brown shade and apply it underneath in your eyes. Now take the same brown shade and do a crease on your eyelids with your eye shadow crease brush. After that use shimmery eye shadow and apply it in the corner of your eyelids. Now take eyeliner and apply it on the bottom of your eyelids.
 For cheeks take highly pigmented pink blush and apply it to your cheeks with the help of a blush brush. Use a highlighter to make your skin look shinier. Apply highlighter on your cheekbones, forehead, and nose highlighter can help your nose to look sharper. Now it is time to color your lip. Take a light glossy shade and apply it on your lips.
So, these are some of the different looks that are pretty simple and easy to try. These are simple makeup for every day. Also, none of them require too much expertise or flair over makeup skills at all. If you have never done makeup on yourself, you can start from here.
Conclusion 
Hopefully, with the step by step process, you will be able to get down these simple makeup looks. They are very handy for working women or school students. Because they don't get much time to prepare themselves, also they can't have too much makeup on them. That's why these are the best options for such kind of people.
Related:
Full Face Makeup Tutorials For Beginners In 11 Steps
9 Best Makeup Starter Kits For Beginners
11 Must-Know Tips Makeup For Beginners
8 Must-have Makeup Kit For Beginners
How To Do Full Face Makeup In 13 Steps
8 Golden Rules of How To Treat Your Dry Skin on Face