Makeup helps a woman to appear more feminine; that's why it is so fascinating. For women, makeup is one of the essential parts of our daily life. It has been used for centuries.
Makeup enhances our outer appearance. It makes us more attractive and more noticeable. It protects our skin from pollution because it creates a light layer on your skin. Makeup is the best way to show your self-care. But sometimes, many of us get confused about what we should need to buy for a makeup kit. This makeup kit for beginners' guide will clear all your confusions.
Creating a makeup kit is the hardest thing for a beginner. Different types of makeup products can pop up in your mind. Even when I started making up, I also used to get confused about which one to take. But over time, I learned what is necessary and what isn't. That's what I will be sharing with you here. Let's jump right into that.
Makeup Starter Kit
These are some of the makeup products you must have in your makeup set. As a beginner, you will need all of these to begin creating different makeup looks. But as you progress further, you will need to add some additional products to create much more complex, and professional makeup looks.
Below is the list of makeup products for beginners. These are pretty basic, and everyone should have these products regardless of the brands.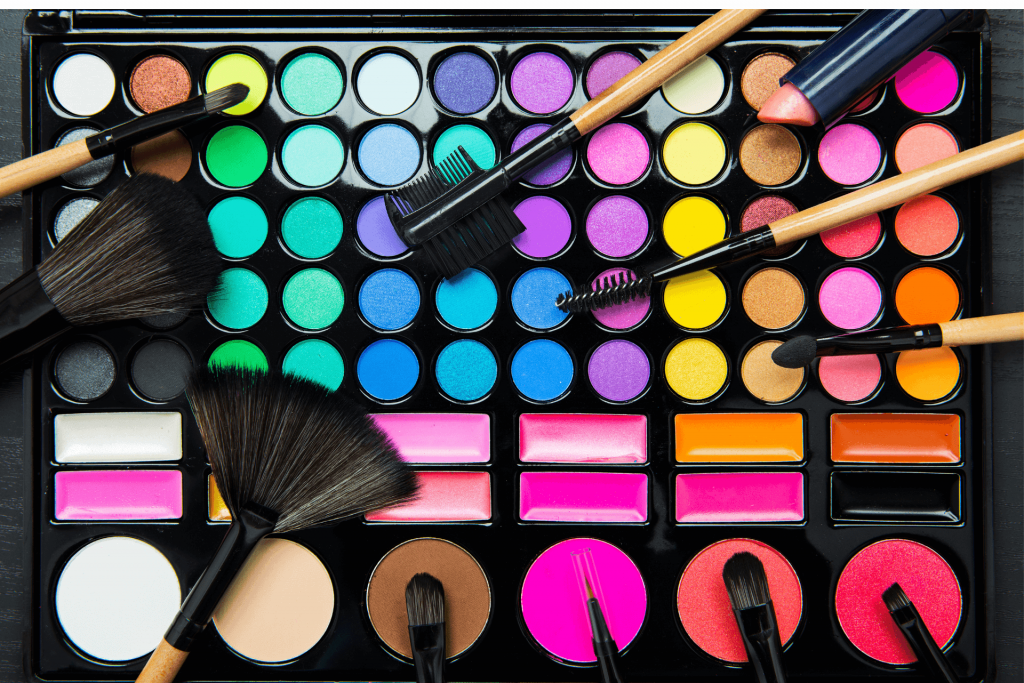 1. Moisturizer or primer:
Great makeup begins with great skincare. Prepare your skin with tandem slithering with moisturizer or primer. This will ensure a flawless base that keeps makeup in place all day long.  They both will allow your makeup to really latch. If you have different skin problems like pores and pimples, you must buy a primer or moisturizer.
2. Foundation:
Foundation is a liquid makeup product. That helps to cover flaws and discoloration in your face. And sometimes change the natural skin tone. As foundation plays a considerable role in makeup, you need to ensure your skin color and skin type while buying it. Cause not all of us have the same kind of skin. I suggest you buy a matte foundation if you have oily skin. And if you have dry skin, then you should buy a hydrating foundation.
3. Concealer:
As a Beginner, you can eliminate the caked-on foundation's risk by adding concealer in your kit. Concealer is used to hide your dark circles and also works as a color corrector. You need to use a darker shade of concealer to contour your skin. Cause contouring makes you look younger. And again, it helps to hide a double chin.
4. Blush:
Blush instantly makes you look younger, prettier, and healthier. You can add a healthy color to your skin with the use of blush. This just adds an excellent little detail on your face that makes you look livelier than usual.
5. Eyeliner:
Basically, eyeliner is used to define eyes and helps your eyes to lift up. Eyeliner even can change your eye shape.If you are a beginner, try to use a pencil liner because it is easy to apply. Before buying eyeliner, you need to ensure that your eyeliner is waterproof and lasts for a long period.
6. Mascara:
Mascara makes your eyelashes lengthy, darker, and thicker. Mascara draws more attention to your eyes. So, you also need to check that your mascara should be waterproof and lasts for an extended period.
You can also buy an eyelash curler. It will make your eyes longer. You can skip this as it is not so necessary.
7. Highlighter:
Highlighter enhances your complexion. It also makes your skin look brighter and shinier. With the help of a highlighter, you can highlight various parts of your face; before buying a highlighter, check if it has high pigmentation or not. Choose liquid highlighter because it gives you a naturally versatile look.
8. Lipstick:
Actually, it depends on you that you want to apply bold lipstick or a nude shade. If you have a dark skin tone, I highly suggest you buy bold lipsticks like red, brown, purple. And if you have a light skin tone, try to buy light shades like pink, peach, nude, etc. There are lots of types of lipstick, such as liquid matte, stick matte, glossy liquid, and many more. If you are a beginner, then I suggest using a stick matte because it is very easy to apply.
And also, buy a lip liner 2x darker than your lipstick shade. Cause it helps your lips to get in beautiful shape.
I have written about makeup in all those previous rows, but now I will write to you about the tools we use to apply our makeup. The tools we use to apply our make up is called "Makeup Brush." It is one of the essential things of your make up kit.
There are many types of makeup brushes and their uses. For different makeup products, you need to use a different kind of brush. I am mentioning all the brush usage below:
Foundation brush

Stripling brush

Concealer brush

Powder brush

Blush brush

Contour brush

Bronzer brush

Highlighter brush

Eye shadow brush

Eye shadow crease brush

Eye shadow blending brush

Liner brush

Mascara brush

Lip brush
You can also use a beauty blender to blend your foundation and concealer and also contour your face. These are important for finesse in the makeup looks you create. Without these, you will see your makeup falling apart all over the place.
There you go, a complete guide of a makeup kit for beginners. With the help of this, you can start by creating some simple and basic makeup looks. No need to go to a beauty parlor before a party anymore, now you can create your looks at home as you wish.
Related: 7 Best Tips & Tricks For How To Get Glowy Skin Without Makeup