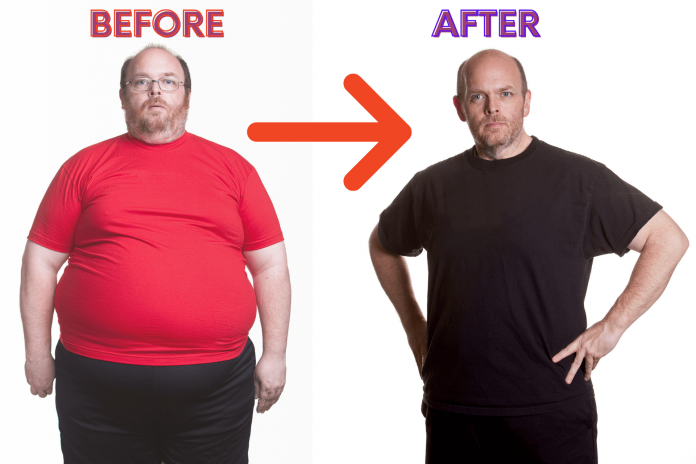 To lose weight may seem difficult at first but with the right knowledge and guidelines, it is definitely possible to achieve it. With the proper combination of nutrition and exercise, weight loss is easy to achieve. This workout plan will not only make you look more attractive but at the same time, it will ensure that you have more strength and endurance. The purpose of this amazing weight loss workout plan for men is to make sure that you drop at least 5 pounds, maintain or even gain muscle mass, and have the stamina and fitness level to match your new body.
Before getting into the workout plan itself, it is necessary to establish that having a great diet is the key element we need if we want to lose weight. It is not possible for us to exercise your way out of a bad diet. A good diet consists of proteins, fats, and carbohydrates in the right amounts. It is important not to lose muscle mass when dropping your weight. To maintain or even gain muscle mass it is necessary for men to go for a high protein diet.
4-Week Diet Plan for Weight Loss at Home
Most of your food intake should come from protein sources. For an adult male, your daily protein intake should be at least twice your body weight (in kg). Fats must be around 20-30% of your overall calories. With that covered, you have to fill in the rest of your calories with carbohydrates.
We can divide the days into three eating patterns:
Peak Carb Day: This eating pattern has to be maintained for one day in each week. This day means that you get to have more calories than a normal day. This day should be used for dining outside with friends, parties, or when you feel like finally having that delicious pizza. Remember that this is the only day in an entire week when you are allowed to eat junk, so make sure you use it the best you can. While your peak carb days depends on the ability of your body to burn off what you eat, to have a peak of 2500 calories is a good start for a peak carb day.
Average Carb Days: This will happen 3 days per week. Having your maximum calorie intake up to 2300 calories while maintaining the protein and fat requirements is the way to go for these three days in a week.
Small Carb Days: This will occur for 3 days a week. At this point, your calorie intake will be the lowest. For this reason, it will be the hardest to achieve since you are allowed to only eat up to 2200 calories every day in the small carb days. You are at full freedom to choose how you get your protein, fats, and carbs. So, use that to your advantage and come up with a meal plan that you will have a great time eating and make sure it is something that you will be able to stick to it in the long run.
That was the diet plan for Week 1. As we move forward with this plan, we can drop 100 calories per week from the small carb days. In Week 2, the small carb days you will eat up to 2100 calories. In Week 3 and Week 4, the small carb days your calorie intake should not exceed 2000 and 1900 calories respectively. Remember that this eating pattern is useful if you maintain the right ratio of protein and fats.
With the diet part out of the way and ensuring that we are on the right track with our eating habits, the workout plan will improve and expedite the weight loss process greatly. This weight loss workout plan for beginners will expedite the process of dropping those kilos you want to lose so bad if only you have managed to fix your eating habits.
4-Week Workout Plan for Weight Loss at Home
This weight loss workout plan for men can be done at your home. No equipment is necessary for this training because it is simple and can be done anywhere. We will start off really slow and keep building from there. The training shared in this plan is mainly cardio and the aim of these training sessions is to get your heart pumping. These simple workout routines should not take longer than 10-15 minutes to complete.
Week 1:
Day 1: 25 Jumping Jacks, 10 Push-ups, 25 squats.
Day 2: 10 Sit-Ups, 20 Lunges, 10 Burpees.
Day 3 and Day 4: You will be doing the same plan that you have done on Day 1 and Day 2 respectively.
Day 5 and Day 6 are a repetition of Day 1 and Day 2 respectively.
Day 7 is for rest and stretching.
From here on, each week we will add 5 more reps to each of the workout schedules that we have been doing. This is what Week 2 should look like and you can see what it looks like by seeing the Week 2 workout plan like an example.
Week 2:
Day 1: 30 Jumping Jacks, 15 Push Ups, 30 Squats.
Day 2: 15 Sit-Ups, 25 Lunges, 15 Burpees.
We will follow what we did in Week 1 here in Week 2 and complete Week 3 and Week 4 by adding 5 reps for each exercise.
The icing on the cake would be to do 30 minutes of exercise like walking or running. To do this exercise on top of our workout schedule is the icing on the cake. When you reach a threshold of doing exercise every day, the metabolism of your body will automatically increase and greatly help in reducing weight. So to ensure the best results, you need to do 30 minutes of exercise. But if that is too much time and work for you, just the maintenance of a diet is enough for you to start your way into losing weight.
That is all there is to it. The right combination of diet and exercise is all it takes to fast track your way into losing weight. The fat loss workout plan male shared with you is simple and highly effective. This is meant for all the men out there because the steps are really easy to follow. The diet can be made at your convenience and you get to pick the foods you eat. And this weight loss workout plan for men doesn't really take up too much of your time. Stay true to your fitness regime and if you do that there is no reason that you won't enjoy the results. Hopefully, you will achieve the body of your dreams when moving forward with this particular plan without putting in a crazy amount of work.
Related: 10 Best Exercises To Lose Weight Fast At Home Without Equipment