The right way of removing gel nail polish is not hard at all to do. It has to be done right because this is one of the fragile parts of getting off our nail gels.  
Some people struggle to get rid of the gel nails because it might be hard for most of us. With our guide on how to take off gel nails, you can surely get the difficult task done.
So, let's get into it without any delay. 
How To Remove Gel Nails
We'll give ourselves the best and easiest methods to keep up as it's a long process and a lot of hassle to face. We have got the guide set up with how to remove gel nails with tips. These tips are some things you need to look out for.
You will need supplies like
Cotton balls 

Acetone 

Nail groomer/nail cleaner

Aluminum foil  
All of these supplies have different contributions in cleaning and getting rid of the nail gels quickly.
Let's start off with using cotton balls:
Step-1:

Using cotton balls for removing nail gels

Take a cotton ball and be sure that the cotton ball. It is going to remove all the nail gels from the nails. Using cotton balls for removing nail gels is a must. Firstly, tear it up into tiny pieces. Divide them into 10 separable pieces for each of your nails. 

The cotton balls shouldn't turn out too big or too small. Make sure you have the size that matches your nails.  Again, they don't need to be very thick or very thin too.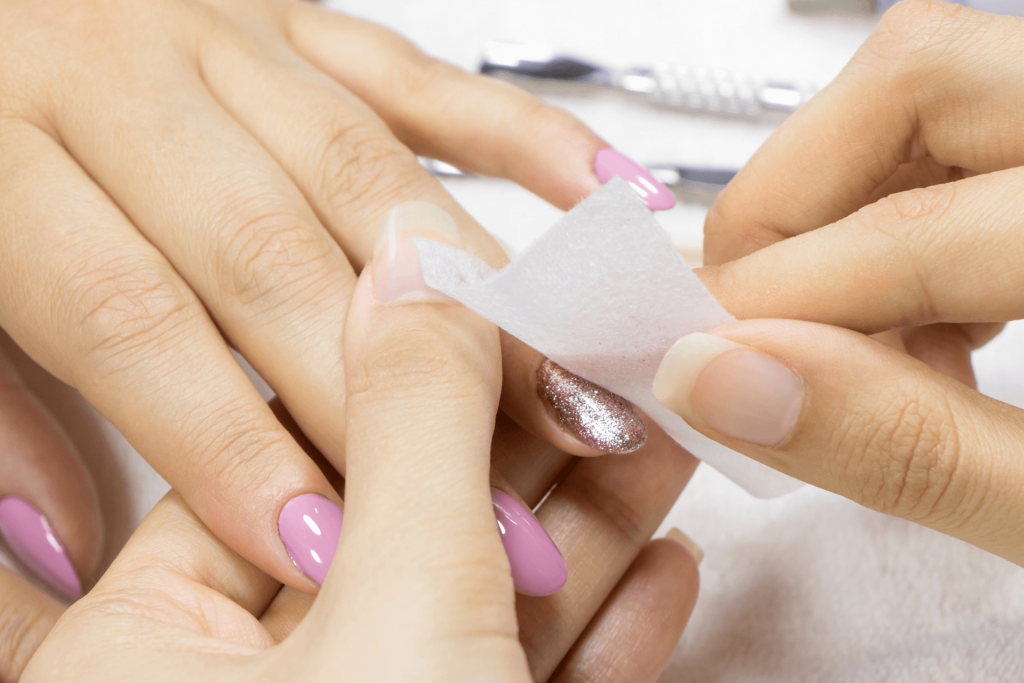 Step-2:

Using acetone for removing gel nails  

Dip the cotton balls into the acetone and make it perfectly wet with the acetone. Once the cotton ball is completely saturated, bring it in, wring it on your nail. Keep the saturated wet cotton ball of acetone on the nails for a while.  

Make sure to put them all over the nails and don't miss a single nail. The cotton ball should be on the top of your nail bed. One thing to remember while wringing the cotton balls over your fragile nails, make sure you're not doing it on the entire finger. 

It might dry out your cuticles, and your nails may turn white, which is not good for your nails. Keep it hydrated as much as possible.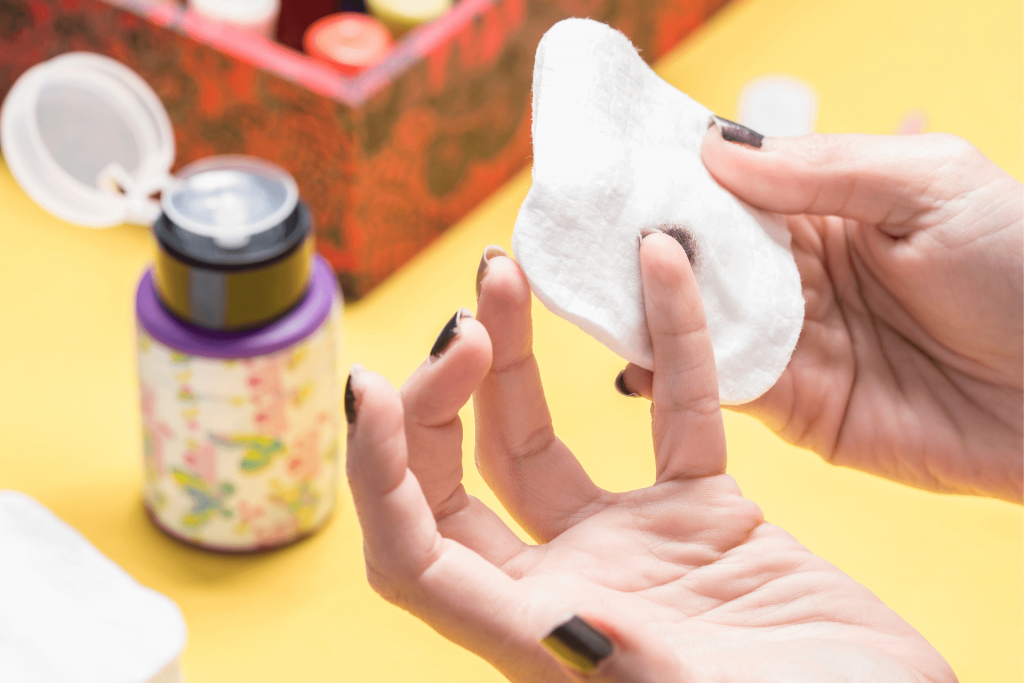 Step-3:

Using aluminum foil to remove gel nails 

Take the aluminum foil. Don't forget to cut them into pieces before you start working on it so that it doesn't look like a hassle while you're in the process of acetone on your nails already.  So, as they're parted into pieces, wrap the aluminum foil all over the fingers.

It won't harm the fingers nor the nails just to make sure the mechanism of conducting heat starts within. This step of getting rid of the nail gels is significant and has to be done carefully. This process is basically going to make sure that the acetone completely goes through the gel that is stuck on the nail bed. 

The process would need about 5-10 minutes as we're going to take a nail groomer, and just along with that; we will shove up the nail gels thoroughly. It's not going to peel or damage the nails.  
Step-4:

Peeling off the nails

 

You're going to know that the nail gels are ready to be pushed away when we'll see that the gel is already rising up from the nail bed when the aluminum wrap is taken off. 

When we see the polish peeling off the nail, we have to efficiently use the nail groomer to get rid of the nail gel.  If you see that sadly if the nail gel isn't coming off, we can put another layer of cotton ball wet with acetone and again an aluminum wrap process. 

In this way, we can easily get rid of nail gels.  To be very honest, using nail groomers can be heinous, so there's a way of not using nail groomers.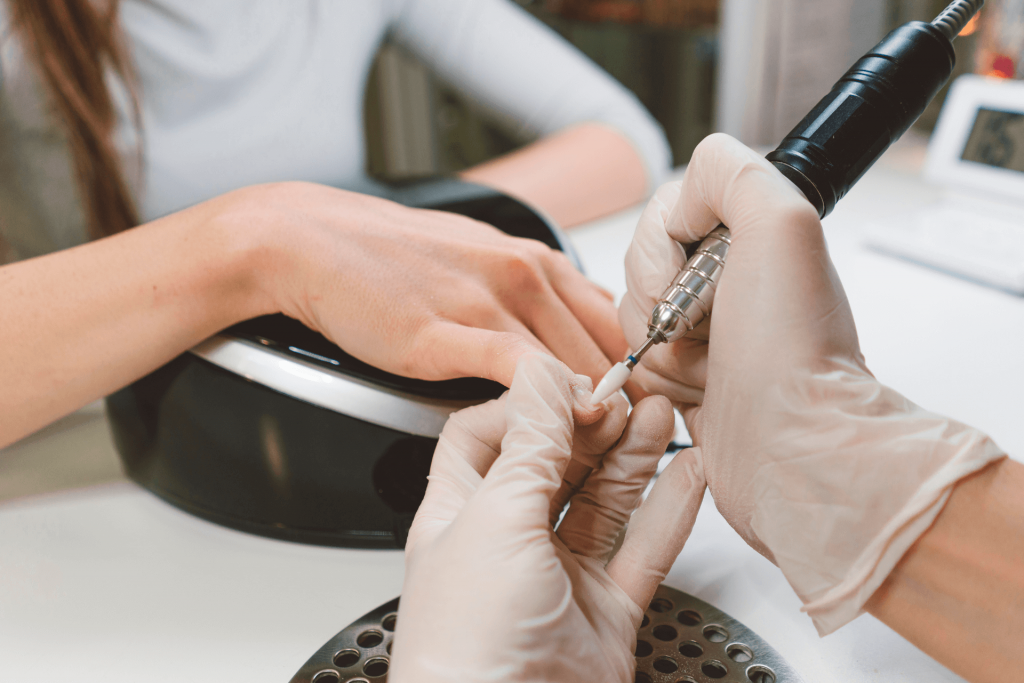 Step-5:

Finishing the process

So, take a cotton ball and dip it into the acetone, go ahead and rub it onto the nail bed. Keep rubbing against it until the nail gel comes off. 

Because the acetone kept for a long time, the nail gel gets softer and results in coming off while rubbing easily. 

The nail groomers can hurt you and also can damage the cuticles of our nails.

Following these rules can make it easier for us to remove the gel, acrylic nails. 

Let's move to some basic things we've been doing wrong while putting off nail gels.
Things we've been doing wrong while putting off nail gels:
The first mistake that we make is choosing nail polish remover over choosing the good acetone for your nail. If you're reaching for removing gel nails, then you need 100% acetone.
A 100% acetone will penetrate all the gel polish layers and remove the nail gel from the depth. Basically, it lifts up the gel from the nail bed. 
The next mistake that we make while putting off the gel nail is that we use the nail file to break through the nail gel layers. So, using it doesn't justify the safety of our nail beds. So just directly put acetone on your nail to get rid of the nail gel quickly.
Okay, so as mentioned above, using aluminum foil to let it soak and do a heat-conducting process. It's not wrong, but using nail clips looks much better and gives you comfort.  
And last but not least, never use metal pushers or nail groomers for pushing off the nail gels!
These are the to-dos for putting off the nail gels from your nails. They're easy, aren't they?
So, if you are following the above methods of how to take off gel nails, it'll be very much easy and convenient for you. Let's make sure we're keeping our nails as healthy as possible because they're fragile. In every step as you go forward, there might be some difficulties to face. Don't give up. Or think of it as a hard task.
Related:
Tips And Tricks For How To Paint Nails