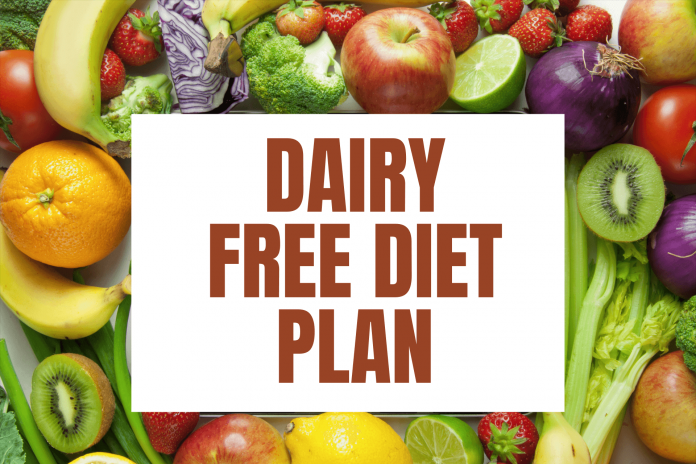 If you have heard about the numerous benefits of a dairy-free diet and have decided to take it up, then a round of applause for you. It's a great decision on your part. Whether you follow this diet for reaping the benefits or because you are intolerant of dairy products, you are likely to see great results. If you don't already know, then let's discuss some of the benefits of going on a dairy-free diet. The first major benefit that almost everyone claims to have is better skin. If you have acne, then a dairy-free diet may be great for you. Acne is caused when oil is stored up in the body. Having dairy products causes inflammation which leads to acne. So, a dairy free diet plan may help you reduce acne. Milk products also mess up the optimum acid/alkaline ratio in the body. Milk products make the body more acidic in nature. So, ditching dairy products help restore the correct acid/alkaline balance in the body. Other benefits are good digestion and weight loss. Now that we are aware if why we need to go for a dairy-free diet, we need to devise a plan that we can sustain in the long run. We need to set our meal plans in a way that we will enjoy our food without dairy products.
If we are to replace milk and milk products, we need o know the good things that we will be missing out on. And then we need to come up with substitutes for those. That is the only way we can go dairy-free in the long run. The first and most important milk substitute we need is a plant-based milk alternative. Generally, the milk substitutes that are available for drinking are milk made from soy, almonds, and oats. They vary in nutrients. So, take some time to research the one which is perfect for you. This will help you replace pouring milk in your cereal or smoothie and will work as a major milk alternative. We will also be missing out on protein, calcium, and vitamins. Protein can be easily replaced by chicken, beef, and fish. Soymilk or almond milk has added calcium in them which can replace milk. Tofu and legume are also great sources of calcium. We will also be missing out on Vitamin D. To replace that, we can take a walk in the sunlight for a period of 10 to 15 minutes. Otherwise, eggs and fish are also great sources of Vitamin D. These are all the major nutrients we get from milk and their substitutes.
Now let's take a look at some of our options for this dairy free diet plan. Even though the options are endless and going through a dairy-free diet isn't the most difficult thing the world, let's take a look at some of the easiest ones.
Breakfast
Option 1:
We have already discussed milk substitutes such as soymilk and almond milk. The simplest breakfast is to have your favorite cereal or granola with the milk substitute of your choice. This will be the easiest to make when you are in a rush as there is almost zero preparation time required for this breakfast.
Option 2:
Poached Eggs & Orange Juice
Eggs are a great source of protein and oranges are a great source of calcium. These are great alternatives for milk. If you don't like poached eggs, you can either have it boiled or make an omelet. Whatever floats your boat will work just fine.
Lunch
This dairy and gluten-free diet plan is great for weight loss. Now let's take a look at some easy options for lunch.
Option 1:
Having a delicious chicken soup will be a great source of protein. Soup is my personal favorite and that is why I had to add it to the list. However, soup is sometimes not filling enough. So, it is great to just add some vegetables and get the essential fiber from it. A mix and mash of green vegetables like cucumber, baby spinach, and lettuce works really well for me. You get essential nutrients and it will keep you satiated throughout the day. 
Option 2:
Grilled Chicken & Carrots
We are using chicken for our main source of protein at lunch. You can bake or grill your chicken. Use the marinade and seasoning of your choice. Just be sure to always pick healthier alternatives. You can add carrots as a vegetable. Otherwise, you can use cucumber or a mix of both. This dairy free meal prep is easy and won't take up much time.
Dinner
Option 1:
Use quinoa and add the vegetables of your preference as a great option for dinner. Quinoa is a healthy food that makes you lose fat and lowers the water retention in your body. Use kidney beans as vegetables. This is a great option for a gluten and dairy free diet for weight loss.
Option 2:
One of the best sources of protein to replace milk is fish. Add the seasoning of your choice and serve it with steamed vegetables. My go-to veggies are always lettuce, cauliflower, carrots, and cucumber and I strongly recommend them.
Those were some options for the dairy free diet plan. As long as you avoid dairy and make sure you get enough essential nutrients, feel free to make your own plans. The goal is to make it easy while not compromising on health. Remember to stay hydrated. When you are dehydrated, your body retains water which causes you to bloat. So, if you are an adult drink at least three liters of water on a daily basis. This diet is great for weight loss. Going for a dairy-free diet will result in clear skin and better digestion. And as mentioned earlier, it will reduce the inflammation of your body. This diet is recommended for everybody and it is sustainable in the long run. Hopefully, this guide has given you a perfect idea of how this diet works, the benefits of this diet, and how to easily apply it in your life.