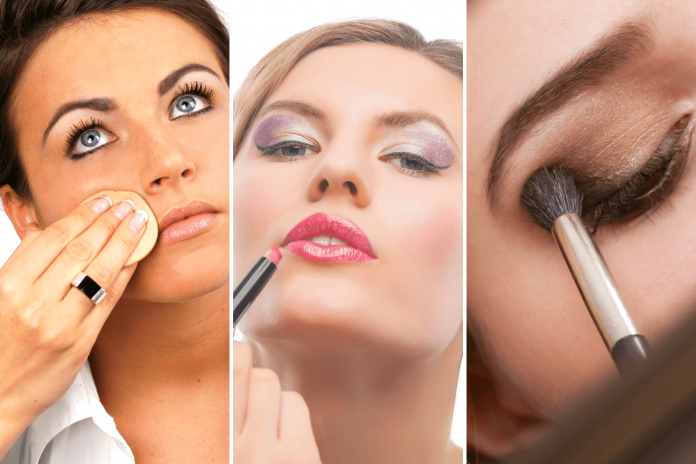 Every single woman wants to look her best. That is why we put makeup on our face to look attractive and more noticeable. Research says that the main purpose of makeup is trying to minimize any discoloration of the skin. Any irregular contour and then better allow attention to be drawn to certain features such: the eyes, the lips, humans want to accentuate or at least at women. Many of us don't know the proper way of doing makeup. Here, you will get to know how to do makeup so you can get the perfect look you want. 
Makeup has been used for centuries. Every year, over 40 million dollars are spent on makeup. There are so many benefits of wearing makeup, and it has also become a necessary part of our daily life. Like makeup can make us more confident. Makeup helps your skin to protect from the pollution because it creates a light layer on your skin. Makeup can enhance any woman's appearance. You can conceal your wrinkles and look younger so that you don't have to lie about your age. And makeup is the best way to showcase your sense of self-care.
At first, you will find doing makeup hard. But eventually, when you will start doing it, it will become an effortless thing for you. And many of us don't even know how to apply makeup on our faces. So, let's get on with the process.
Basic Makeup Steps
Let's say you have a party to attend but can't make it to the parlor in time. That's when you can follow the below face makeup steps to get yourself ready for the party. 
Step-1: The first thing you need to do before starting makeup is to be sure that your skin is clear. So before doing make up wash your face correctly.
Step-2: Now apply to moisturize or primer on your face. These are going to allow the makeup to really latch. 
Step-3: After your primer, the next thing is correct. This is basically using different colors like green, red, or orange to enhance our body's different parts where there is discoloration. Apply your color corrector in the discoloration part of your face.
(Try to keep a little makeup towel. It will help you fix your makeup and clean your brush because we use different colors on a single brush.)
Step-4: After the color corrector, now you need a foundation. Apply foundation to your face using a brush or a beauty blender.
Before buying a foundation, you need to figure out your skin type, whether it is oily or dry. Cause foundation plays a huge role in protecting your skin. If your skin is oily, then use a matte foundation or if you have dry skin, then use a hydrating foundation. It would be best if you also bought a foundation according to the color of your skin.
Step-5: Now it is time to conceal; two important things come when it is about concealer. The first one is the color and the second thing is consistency. Apply concealer under your eyes, on your face's blemishes, on the forehead, on the chin. Now blend it with the same beauty blender.
Step-6: Take a brush and sweep it around your whole face with face powder. Face powder will help you stay with your makeup for a long time, and it will not spoil your makeup.
Step-7: Now it's time to use powder contour. The contour gives your face a certain shape; it makes you look younger, it helps you to hide a double chin. While choosing contour color, choose half to two shades darker than your actual skin tone. Focus on the areas where you want to define like your cheekbones and the forehead area. 
To contour your nose, you need to take a smaller brush. Some people even overdo it to get a skinny nose, but I want you to look natural. So,apply it and blend it gently.
Step-8: Now you need to apply highlighter to brighten your face. Use a highly pigmented highlighter. Take a highlighter with your ring finger and apply on different areas on your face by tapping. Like on the cheekbones, middle of your nose on, on your chin, under your eyebrows, and tear ducts' inner corners.
Step-9: Apply your blush on your cheeks. Dab it on with your brush very lightly, then blend it in a circular motion. Remember, a good blush can make you look prettier and more noticeable.
Step-10: For eyeshadow, you can use any color you like. I prefer to use brown colored shades. If your eyelids are very oily, then before applying eye shadow, use eye primer. Take eye shadow with your brush and apply and blend it perfectly. 
(Do not touch your face while doing makeup. Otherwise, it will spoil your makeup and going to create messy fingerprints.)
Step-11: While choosing eyeliner, be sure that eyeliner is waterproof and lasts for a long period. Carefully swatch a line in your eyelids. It will help your eyes to lift up. If your eyeliner becomes messy, use concealer to fix it.
Step-12: Before applying mascara, use an eyelash curler; this will help your lashes to look longer and more beautiful. It's not so important to use the eyelash curler. And now apply mascara.
Step-13: Use a little bit of concealer before applying lipstick. Cause your lips may have discoloration. So, line up your lips in perfect shape with the help of lip liner. You can use your favorite lipstick. But the lip liner shade should be darker than your lipstick.  
This is how to do makeup at home. It doesn't cost you much, and it's pretty easy as well. Once you get the hang of it, you will feel natural doing all these steps.
So now you know how to do makeup. I tried explaining all these processes involved in makeup in the easiest way possible. Hopefully, you will get the basics of it and get your own desired look. Consider this your starting point in putting on makeup.