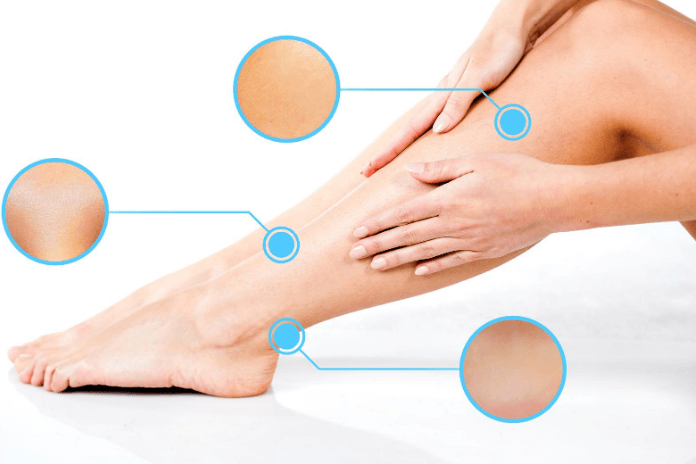 Who does not want soft and shiny legs? Obviously, it gives you confidence, and you can wear whatever you want. No matter if it is sorts, skirt, or even a long gown, soft legs are mandatory. Do not think I am talking about women only. You can not go to the beach, exposing your rough, flaky legs, right men? 
But do not get depressed over your rough legs. There are many remedies on how to cure dry skin on legs. For example, you can apply moisturizer, use exfoliator or scrub, etc. If you are experiencing dry, flaky legs, then this article is for you. Here, you will get all the easy, instant, and effective remedies to cure dry skins on legs.
What causes dry skin on legs? 
Before moving into the curing section, you should know why you have flaky skins on your legs. Actually, there can be various reasons behind the dry, itchy skin on legs. For example, 
1. Skin conditions, like Eczema. This is a genetic disease and can make your leg skins red, itchy, and flaky. 
2. If you have allergies, and your legs come in contact with the particular thing, you can experience dry skins.
3. The weather can be a reason why your legs are looking rough. Low humidity in the air and harsh weather make the legs lose its moisture. 
4. Medical conditions like Psoriasis can cause dry skin on legs. 
5. Using the low quality and harsh products like soap make your legs flaky and rough. 
6. Old people often experience dry skins on their legs due to their growing age. 
Also, diseases like diabetics, kidney disease, HIV, liver disease, thyroid issues can be why you have dry skins on the legs.
How to cure dry skin on legs:
There are many ways to treat your dry, flaky skins on the legs. Here you will get the most effective and easy ones. The most amazing fact is, you can try everything at home. 
How to get rid of dry skin on legs overnight:
I get this question a lot. Is it even possible to cure your flaky skins on legs overnight? The answer depends on your skin condition. But you can always try, right? 
The best way to get rid of dry skin is by moisturizing it. You can try exfoliation, but that can make your skin red. So here are the steps how you can moisturize your dry skin on legs: 
✔ First of all, wash your legs with a gentle cleanser or mild soap. Do not use any soap that contains harsh chemicals. Rinsing your legs can remove the dead and flaky skins. 
✔ After that, pat your legs with a soft towel. Using rough towels can remove the natural oils from your legs. 
✔ Finally, massage some good quality moisturizers, cream, or oils on your legs.
How to cure dry skins on legs with an exfoliator:
Exfoliation is an effective way to cure the flaky skins on the legs. Nowadays, there are many types of exfoliation techniques available. Let's talk about them. 
You can exfoliate your legs with a store-bought brush or sponge. The sponge or brush has a rough texture on its surface. This can remove the dead or dry skins from the legs while you scrub. You can use exfoliating gloves instead of the sponge or brush. 
Like the brushes and gloves, exfoliating scrubs are equally popular. The granular beads buff the dead and dry skins off the legs and make them softer. You will be surprised to know that Alpha hydroxy acids can also help you loosen the flaky skins. 
You need to exfoliate your legs once a week. The frequency will help you cure the dry skins on the legs. Though this method is wonderful and easy, it can irritate your legs in some cases.
How to remove dead skin from legs:
I hope you have understood that removing the dry skin from the legs is not hard. You can use a DIY scrub to cure your flaky skins. For example, you can exfoliate your legs with the towel or loofah or apply homemade scrub on the dry area. 
DIY scrubs are actually popular and effective when it comes to removing the dry skins. These scrubs eventually cure the legs and make them softer. Here are some of the popular scrubs you can use to remove the flaky skins from legs. 
Honey Scrub : To make this scrub, mix 2 tablespoons of honey, ½ tablespoon of brown sugar, and ¼ tablespoon of coconut oil and apply the scrub on your legs' dry skins. Wait for 5 minutes and then rinse off thoroughly.
Coffee Scrub : To prepare the coffee scrub, mix ½ cup of ground coffee, 2 tablespoons of coconut oil, and 2 tablespoons of hot water. You can apply the mixture on the dry areas and rinse it off with water properly.
Home remedies for dry skins on legs:
There is no better way to heal your dry skin on the legs than moisturizing it daily with proper elements. People often use commercial products, but that can make the skin more rough and dry. I recommend you switch to the natural moisturizers. 
Top natural moisturizers for curing dry skin on legs are :
1. Coconut oil : This is enriched with saturated fatty acids. These acids have emollient properties, which hydrate the skin and make it soft. 
2. Sunflower seed oil : A study proves that this oil can be a great healing element for drying skin on any part of your body. 
3. Honey : This not only heals the flaky leg skin but also makes your legs look brighter and shinier. 
4. Aloe Vera : I hope you all know how curing the aloe vera gel can be for your skin. This also cures some of the skin conditions. 
Besides using the moisturizers, you can also try some other home remedies. For example, drink milk, take an oatmeal bath, etc. If you face any problem with any of these elements, stop applying them. Consult a professional before reusing.
Having flaky skins on the legs is normal, and the healing process is easy too. With these methods on how to cure dry skin on legs, I hope your problem with rough legs will be gone forever.